City + Space + Territory + Landscape








year

advisor

about
O Espigão & Suas Janelas - Possibilidades No Vazio

Escola da Cidade
Architecture & Landscape
BA Architecture & Urbanism Thesis

2016
Marina Grinover
My Final Graduation Thesis 'O Espigão e suas janelas - Possibilidades no Vazio' (The Spike and its Windows - Possibilities in the Void) was a continuity of an Academic Research, that began in 2013, and which discussed the processes of cities's identity and image formation through photographic narratives, passing through issues such as the landscape, spatial visual elements and (collective) memory.
When I begun the final thesis project, it came naturally to me the idea of continuing to delve into these themes and to also be able to study other subjects that emerged in the course of my first research, such as walking, the body, its time and its speed. The research is constituted by 1. a brief overview on the window element in the history of architecture; 2. about the term landscape and 3. a mapping of the views that open to the horizon - to the remnants of the natural landscape of the city of São Paulo (such as Serra da Cantareira), - which came up through walking and the direct contact between the body and the city. Only the body is able, through space and at its own pace, to perceive the nuances and different layers of a city as multiple as São Paulo. Through the body's perspective, the views can be interpreted as large and important voids in the city, which must be preserved in order to give vent to the sight and therefore, able to be completed subjectively. Also, they guide the user and provide their location in the city.
I made photographic records and written reports of my crossings through Espigão (the highest elevation in the city of São Paulo), cataloged and mapped the places I found and, finally, I analyzed them through their specificities and potentialities in order to, later on, create a visual system, indicating their presence throughout this axis and a "guide for interventions" that would occupy the spaces, in order to keep these windows-views present. The result of the work is a book in which I present the theoretical research, the collected and analyzed material, and the project.
note: the publication was selected for the 11th São Paulo Architecture Biennial's open call Imaginário da Cidade (City's Imaginary), to participate in the Biennial's exhibition at the Mário de Andrade Library and integrate the permanent collection of the institution. Also, the illustration beside was selected for the open call Drawings at the Archdaily website, in 2018.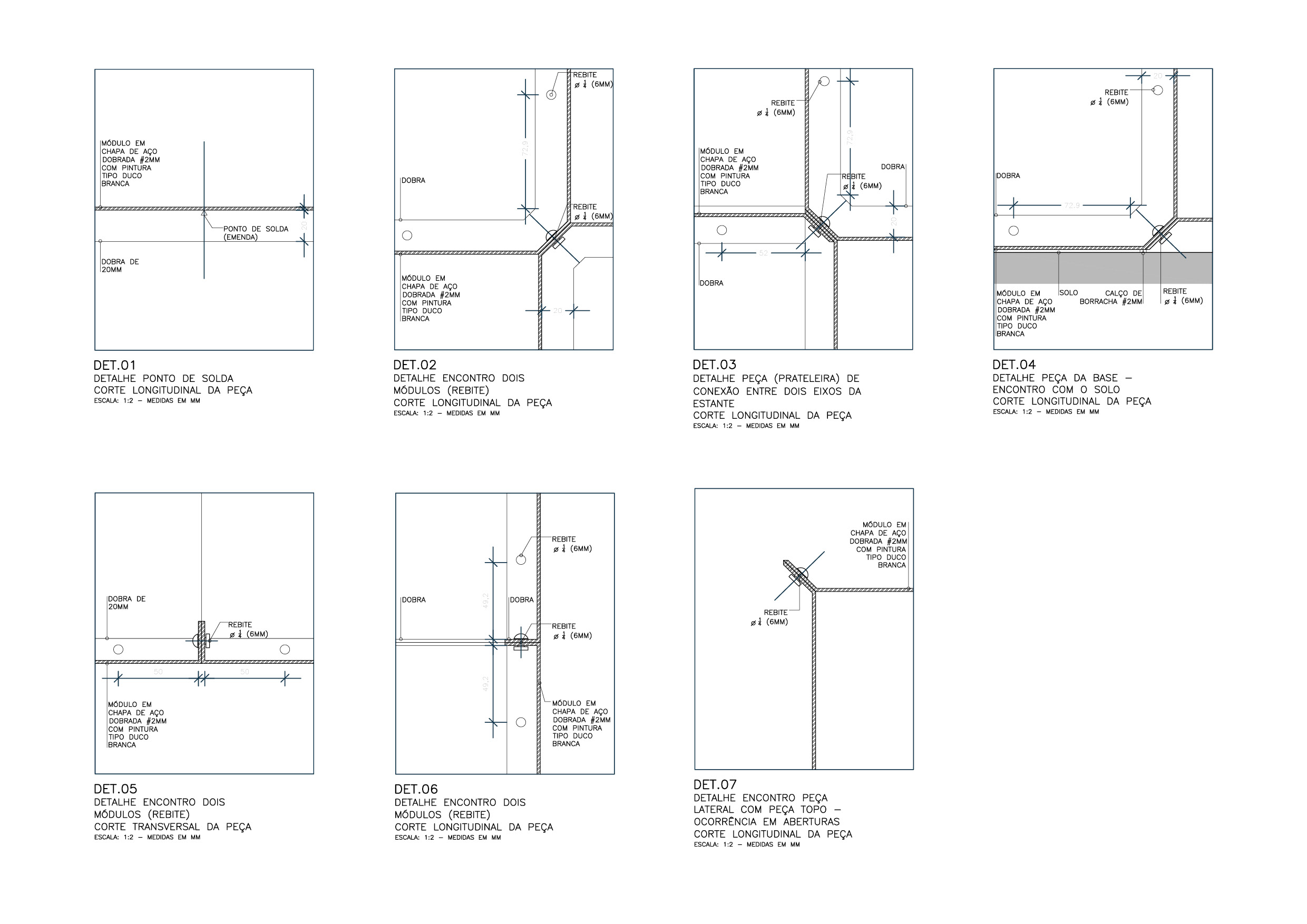 year

about


Estante Modular Cobogó

Architecture & Design

Academic Project

2016

The Cobogó Modular Bookcase was developed for the Design Studio class at Escola da Cidade - Faculty of Architecture and Urbanism, in 2016, in which the proposal was to think about improvements to the building that houses the School of Architecture. The bookcase would be destined for a new library.

Designed with a modular system, the metal sheet shelf allows for the economy of construction materials, since the notches between the modules occur through a chamfer and lateral folds, which consequently generates an interval between the modules - which can also be used. Arranged side by side, the modules have infinite configurations. As it was initially thought for a university library, in the following drawing, the modules can be seen as configuring an 'aquarium' space, a more reserved and quiet room for students who want to study in silence. The objects and books on the shelves can be reached both from inside and outside of the 'aquarium'.







year

advisor

about
Centro de Agricultura Urbana

Architecture & Design

Academic Project

2015

Fábio Valentim

O centro de agricultura urbana foi desenvolvido dentro da disciplina de projeto da faculdade de arquitetura e urbanismo Escola da Cidade.
O projeto consistia em dar novo uso ao terreno do antigo gasômetro da cidade de São Paulo, o qual pertence atualmente a Comgás, onde existem alguns edifícios tombados.
Tendo em vista o tamanho do terreno, a importância histórica para a memória da população e a proximidade com as regiões do Gasômetro e da Zona Cerealista, optou-se em estabelecer um ponto de produção, trocas e conhecimentos agrícolas dentro da cidade, de forma a empoderar pequenos produtores, mas também fazer com que os moradores da cidade passem a cultivar seus próprios alimentos, de maneira a depender menos de grandes empresas, diminuindo as etapas entre a mesa - consumidor e o produtor.
Dessa forma, os antigos balões de gás foram transformados em locais para cultivo de espécies de árvores enquanto todo o solo do terreno passa a ser utilizado como terreno fértil para cultivo de alimentos.
Os antigos edifícios tombados ganham um novo uso: escola de gastronomia, espaço para oficinas e workshops em torno de alimentação viva e restaurante.
Novos volumes são adicionados, de forma a abrigar granja, depósito de alimentos, composteira e também, espaço para feiras e trocas de alimentos. Por fim, é criada uma pavimentação que indica os diferentes tipos de solo e torna todo o terreno permeável e livre para a circulação de pedestres que saem do metrô Parque Dom Pedro II.

imagens -

1. planta térreo
2. corte longitudinal
3. corte transversal + diagrama implementação diferentes pisos








year

client

about
Corpo Ruindo
Paula Garcia

Scenery
2014
Paula Garcia
Collaboration with Madeira Marcenaria by Mauricio Pereira, in the drawings for the performance space layout, in which the artist Paula Garcia, Marina Abramović's collaborator, performed the work
Corpo Ruindo
during the Performance Cycle, part of
Abramović
exhibition at Sesc Pompéia, in 2015.